OK... so anyone who knows me (or who has at least read my
earlier blog entry
of July 14, 2009) knows that I am (admittedly) just a wee bit deranged when it comes to my diamond! Well, I recently decided that I *neeeeeeeeeeeded* ;o) a change... so I contacted
Brian Gavin Diamonds
of Houston, TX to create a custom reset project.
Here's the scoop: I really did LOVE the fishtail pave setting that my diamond was set in (after all, I custom designed it myself just 3 years ago!)... but a few months ago, a bee started a'buzzing in my bonnet for a new style -- a classic solitaire.
Honestly, I was beginning to feel like the small melee stones (in the fishtail pave setting) were somehow *competing* with the center stone (I know, I know... this is something only a diamond CRAZEEEE will truly appreciate! The rest of the world... well, just stay with me, please!) Basically, I wanted a setting that would simply highlight and spotlight my beautiful diamond. Summary: I wanted it to "do all the talkin'!"
So with some ideas and some beautiful inspiration rings in mind (and the tireless assistance and cheerleading of one VERY good buddy!) I took the project to Brian Gavin Diamonds. Here is what I requested: 4 delicate, claw prongs on a simple basket head with a semi-rounded shank, in platinum. I had in mind something very special, something a little "different"... definitely not just your dime-a-dozen, run-of-the-mill, 4-prong-setting solitaire.
I wanted this re-set to be something plain and simple, yet timeless and classic. I had a vision in mind, and Brian and Lesley helped me bring it to life.
First up... the CADs...
(Note that CAD images are always "bulkier" than the finished ring will be; there is approximately a 15% "overage" so obviously, the prong tips will be polished and pointed, and the entire ring more "delicate" and fluid after hand finishing and polishing.)
But lookin' gooooooood so far!
Next came the wax models... very exciting!
Then, finally...
TA DA! My beautiful new platinum, 4-claw-prong, solitaire setting:
(These pictures taken by Brian:)
* I LOVE them! * They are everything I had hoped for -- and more.

The shanks are thin (only 2mm) and very delicate, but yet they have surprising "heft" and feel quite "substantial". I love the contrast and the simplicity of the diamond alone against the smooth, sleek line of platinum. And note the small "donut" under the head... so the two rings don't sit quite flush -- there's a sexy little gap between them that I just adore!

Now here's the REALLY COOL PART! Apparently it was an instant hit with other diamond crazeeees, because Brian and Lesley began getting quite a few inquiry calls and e-mails about it. So they decided to offer my design as a new standard setting... and they asked me to name it!

Now THAT was quite an honor. So I gave it a much thought... and finally decided to call the new setting "Grace".
Grace is my mother's name, and I have always loved it.
And according to the dictionary, "grace" is defined as "elegance, beauty, and smoothness of form or movement"… which
clearly describes this beautiful setting
.
(Add
here's
a link to Brian Gavin Diamonds' blog with my story. VERY FUN!)
More pictures...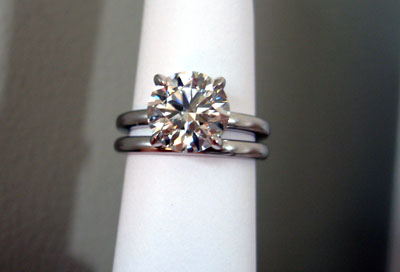 The matching wedding ring all by itself. I love the simple, classic, timeless look of a plain platinum or gold band!
New e-ring with old (fishtail pave) w-ring. A nice look for something different.
And, just for fun... a few "glamour shots" taken by Brian of my diamond while it was unset:
THE VALUE OF AN
INDEPENDENT APPRAISAL
:
Before I end this post, I want to take a minute to mention the importance of an independent appraisal, and the excellent services I received from one independent appraiser in particular. For insurance purposes, it's vital to have a comprehensive, accurate, and appropriate (not too low OR over-inflated) appraisal of value.
For obvious reasons, the place where the diamond was purchased may not necessarily the best place to have it "appraised"... after all, how "independent" and objective can that really be? A truly "independent" appraiser is not affiliated with any vendor, and does not buy or sell jewelry. He works solely for YOU.
Because diamonds are typically substantial investments, and because prices only continue to rise, it is important to keep your appraisal current and updated. In my case, my diamond hadn't been appraised for several years. So, since I was having the reset project done anyway, I decided to send my rings (the old set) to Richard Sherwood of
Sarasota Gem Lab
in Sarasota, FL. Rich unset the diamond and performed his full appraisal on it. I was extremely happy and seriously impressed with how THOROUGH and comprehensive his appraisal was. (Plus Rich is just a 4-star DOLL to work with!)
Once that was done, Rich sent my (now) unset diamond to Brian Gavin Diamonds in Houston, TX for work to begin on my new project. Once my new rings were finished, they were sent back to Rich -- for his final examination and an appraisal of the completed pair of rings. It was protection and peace of mind for me for several reasons. Not that I thought for a moment that Brian Gavin Diamonds would "switch stones" (a very common consumer worry, but basically a non-issue when working with a reputable vendor), but hey, mistakes can happen to anyone, and by having Rich examine the finished rings he could validate that it was in fact my stone, and that no damage (however minor) had occurred to it during the resetting process. He checked the new platinum setting over completely, making sure that everything was just perfect, and then appraised the completed set of rings. When all of that was done, the rings were (*FINALLY*!) shipped to me for delighted receipt into my hot and sweaty little hands!
Was that added time and all that Fed-Ex shipping (my diamond has seen parts of the country I've never seen!) somewhat of an inconvenience? Yes, honestly a bit (the shipping 3 times to and from Rich cost more than his actual appraisals did!) ... but like I said, to me it was well worth it. I recommend Rich's services wholeheartedly... and if I had it to do again, I'd do it exactly the same. (In fact, in a few years when I'm ready for another change... I know I will!!!) ;o)
(BTW, here's Rich's appraisal -- an attractive, complete 3-ring binder of invaluable information, charts, graphics and photos:)